HAWAII ELITE TRACK TEAM- BENEFITTING ORGANIZATION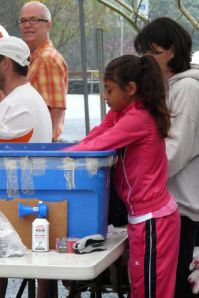 Hawaii Elite Track Team, a non-profit organization, has been in existence since 1992. First established on Oahu, but now making it's home here on Maui since 1996, Hawaii Elite Track Team has catered to the track and field youth community of Hawaii for now seventeen years. Funds from this event will help fund clinics, camps, National meets, training, equipment and uniforms for these young athletes for years to come.
TEAM PHILOSOPHY

"First and most important, we place the emotional and physical well being of the athlete ahead of any personal desires or ambitions we may have for the athlete. To educate and help the athlete achieve their personal goals and athletic endeavors will be a key to their success in the sport and in life. Winning is not the most important ingredient to success, it's the personal achievements and attainment of ones goals that makes you a success."

Since founded, Hawaii Elite Track Team has worked with hundreds of young athletes from ages 3 to 18 years old from around the islands. These athletes have went on to be outstanding high school athletes and or taken their talent to the collegiate level and post collegiate level. Hawaii Elite Track Team has been fortunate to be able to not only help these young athletes increase their skill level in track and field, but have taken these athletes to several National Meets, such as: The National Junior Olympics, Youth Nationals, Junior Nationals, Mt. Sac Relays, Arcadia Track & Field Invitational, and the Foot Locker Cross Country Western Regional Championships.

Hawaii Elite Track Team has also played host to dozens of track and field clinics featuring athletes like Canadian Olympian, Bruni Surin, U.S. Olympians, Christy Gaines, Sheldon Blockberger, Pam Dukes, Jan Johnson, Jason Pyrah, Michael Stember, Jason Lunn, and dozens of national and world class athletes and coaches from all over the world that have come to Hawaii..